News
Car Free Day in Rania
A delegation from the Raparin region in Iraq visiting the Netherlands, got inspired by Dutch cities.
As part of our Knowledge Exchange programme a delegation of 14 people from the government, governerate and municipalities of the Raparin region (340.000 inhabitants) visited our office and country a few months ago. Our programme helps cities to visualize more sustainable options for their planning. This is really important in order to change the paradigm of the car-orientated regions such as Kurdistan and to set the first steps towards a Smart Moving Raparin.
And now, after three months, look at the result: a Car Free Day in Iraq, in the city of Rania.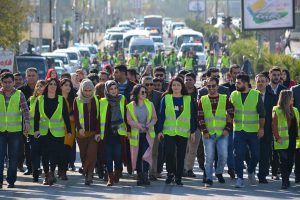 The purpose of this event was to promote walking, cycling and the use of public transport in the area. More than 500 people participated, including the Governor, representatives of the University of Raparin, the Municipality of Rania and the Traffic Department.