News
MOVE Mobility in Santiago de Chile
MOVE Mobility advised Las Condes municipality on sustainable mobility.
Carolina Ramos and Marcel van Lieshout were in Las Condes municipality, in Santiago de Chile to review the "Plan Holanda, Vías Naranjas" pilot and to advise the municipality team in the way forward on bicycle infrastructure in the city.
The "Plan Holanda" aims to improve the cycle conditions on the roads in the main business and commercial part of Las Condes. By bringing the speed down on some of the lanes (30) and adding separate lanes for bicycles and scooters, the municipality expected to increase safety on the street for all non-motorized transport.
We presented the draft findings to Mayor Joaquin Lavin and to the municipalities of Lo Barnechea y Vitacura. We also had the opportunity to meet Paola Tapio and Andrés Gomez-Lobo, former Transport Ministers of Chile to discuss possible collaboration for future projects in Latin America.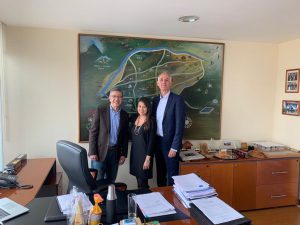 We hope to go back to Santiago soon to see their steps forward towards a Smart Moving City!