News
Kajjansi Junction Spatial Development Framework
MOVE Mobility as partner of DASUDA was present at the Kajjansi Town Council meeting where the Vision of Growth was presented.
Tuesday 26th of February the Kajjansi Town Council met in a special session regarding the Kajjansi Junction Spatial Development Framework (SDF), presented by DASUDA under the title Vision for Growth.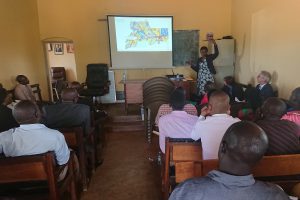 The Council members have taken the opportunity to learn about the insights and background of the SDF containing the Master Plan for the Kajjansi Junction area, the potential growth from the node or Urban Accelerator© over a wider area, and the phased implementation interventions for the existing Kajjansi Market to become a sustainable and durable solution in future context.
Part of the SDF focusses around the Kajjansi junction on an integral spatial and mobility improvement. A Metrobus will interchange at this hub with the Taxi (14 seater) and the main road in Kajjansi town will be transformed into a "Kajjansi Boulevard".
The Council have expressed their enthusiasm for this vision to make it their own. Therefore they have decided officially at the meeting of the Council on Thursday 28th of February 2019 to endorse this Kajjansi Junction Spatial Development Framework.