Projects
The Urban Area of Ramallah-AlBireh is well on its way to making mobility sustainable
MOVE Mobility and her partners have delivered the final Comprehensive Public Transportation Master Plan for the Urban Area of Ramallah-AlBireh. This Public Transport Master Plan is the start of a Sustainable Urban Mobility Plan (SUMP).
Year
2020-2021
Location
Palestine Territories, Ramallah-AlBireh
Client
Municipal Development & Lending Fund, MDLF
Team
To realize a complete SUMP status, four topics need further attention: 1) Detailed parking and pedestrian study; 2) Detailed design of the Master Plan outcome (corridors, terminals, bus stops, bus lines, etc.; 3) Car circulation study; 4) Detailed feasibility study (financial/ social/environmental).
Together with our partners, we will soon meet ministers and mayors involved, and various potential funders to discuss finalization of the plan process. The area suffers from high traffic congestion, existing roadway network in a highly built environment, no room for expansion, increasing auto ownership, increasing commercial activities, limited parking space and not enough space for pedestrians, small capacity public transportation vehicles, poor public transport management, etc.
Multi-modal Hub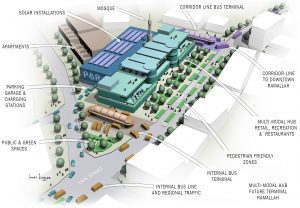 Quality of Urban Space
Integration between corridor line & other internal lines
The area is well on the way to improving this situation, also thanks to Dutch planning expertise.